PAC-12
The Ultimate 2023 Pac-12 Preview: One last dance for the Conference of Champs
Everything you need to know about Pac-12 football ahead of the 2023 season.

* * * * * *
We come not to bury the Pac-12 — not just yet, anyway.
That's not to deny reality, which looms all too large. It's impossible to make any introduction to West Coast football in 2023 without acknowledging the ongoing drawing-and-quartering of West Coast football as we know it. A hundred years of regional solidarity ends here: With Oregon and Washington reluctantly poised to follow USC and UCLA to the sprawling bicoastal behemoth organized under the banner of the Big Ten, and with the Mountain Time Zone schools (Arizona, Arizona State, Colorado and Utah) seeking refuge in the Frankenstein's monster that is the Big 12. As of this writing, speculation remains rampant over the mind-boggling possibility of Stanford and Cal joining the ACC, just to crank the geographic absurdity all the way up to 11.
The leftovers, Oregon State and Washington State, face the grim certainty that they are all but finished as major-conference players. Whether or not the "Pac-X" brand remains affixed to a going concern by this time next year, by any meaningful definition the "Conference of Champions" will have ceased to exist.
But are we here today to talk about next year? We are not. Is this preview going to serve as an obituary? Hell, no.
There is certainly no shortage of paeans to the good old days and laments about the soul-crushing pursuit of every last nickel of television revenue, if that's what you're in the market for. I endorse them all. Throw the TV execs in a lake! For one more season, though, Pac-12 football as we know it remains very much alive — terminal, maybe, but as far as the players and coaches and marching bands and feral student sections that actually represent its lifeblood are concerned, still as vital as ever. So this space resolves to concern itself with the living rather than the soon to be dead.
At the top, the race for the crown is the most wide open of any major conference, by far, with Oregon, USC, Utah and Washington all looking like viable contenders and Oregon State and UCLA looking to take the next step. At the bottom, the resident laughingstock, Colorado, has succeeded in generating local excitement and national intrigue with the arrival of Deion Sanders and possibly the most aggressive approach to overhauling the roster on record. (As for generating wins, well, TBD.) Arizona State and Stanford are also introducing new coaches amid varying degrees of drama. Arizona is, uh, let's say entertaining.
The league features the best player in America, reigning Heisman winner Caleb Williams, and the deepest crop of proven quarterbacks otherwise in Oregon's Bo Nix, Washington's Michael Penix Jr., Utah's Cam Rising and Arizona's Jayden de Laura. Most of the offenses are very good; most of the defenses are very much not.
Competitive, unpredictable, fun: The Pac-12 experience, for 1 more season only. Might as well enjoy it while we still can.
The teams
The frontrunner: USC
Lincoln Riley's first USC team was a clone of his best teams at Oklahoma: Prolific on offense, combustible on defense, doomed to disappointment in the postseason. Dual collapses against Utah in the Pac-12 Championship Game and Tulane in the Cotton Bowl were a bitter end to an 11-1 regular season that had the Trojans on the cusp of the Playoff. And so, even half a continent away, Riley already finds himself facing the big question in L.A. that dogged his tenure at OU: Is he capable of fielding an average defense?
Because let's be honest, that's all it will take to make Riley's Trojans, like Riley's Sooners before them, legitimate national contenders: Average. Maybe not even that. Merely not terrible might suffice.
The offense, boasting the reigning Heisman Trophy winner at quarterback, a bottomless well of skill talent and a veteran o-line, enters the season as the most feared attack in the country. USC ranked No. 3 nationally in 2022 in total and scoring offense, and should be the odds-on favorite to top both categories in '23.
As long as Caleb Williams is upright, the offense is a bonanza. The defense, on the other hand, was too often a liability, especially after midseason. Opposing offenses hung 35+ points on the Trojans in 6 of the last 8 games, including 43, 47 and 46-point outings in their 3 losses. By the end, they were reduced to giving up huge chunks on a weekly basis and praying that some combination of Williams' brilliance and a timely takeaway or two could keep them one step ahead.
Riley resisted calls to sack his longtime defensive coordinator, Alex Grinch, who to his credit did make some progress on that side of the ball during his 3-year stint at Oklahoma. They hit the portal hard, landing plug-and-play starters on every level with a particular emphasis on the line of scrimmage; between Jack Sullivan (Purdue), Bear Alexander (Georgia), Anthony Lucas (Texas A&M), Kyon Barrs (Arizona) and Jamil Muhammad (Georgia State), the front-line rotation was largely rebuilt from scratch. Holdovers include five of last year's top 6 tacklers, a former No. 1 overall recruit (DE Korey Foreman) entering his third year in the program, and a preseason All-American at safety (Calen Bullock).
On paper, there's no excuse for this bunch to be anywhere near as flammable as it was over the back half of last season. But then, there was no excuse for that bunch, either. On the field, every Saturday will be another challenge to ensure the enormous potential of Williams' final college season is not wasted on the wrong side of a shootout.
The challenger(s): Oregon and Washington
Cheating a bit here, but at the moment the space between the Ducks and Huskies is too miniscule to spot without a powerful microscope. From a distance, the 2022 campaigns in Eugene and Seattle were indistinguishable. Both teams introduced a new, relatively unproven head coach (Dan Lanning at Oregon, Kalen DeBoer at Washington) in his first season in charge of a Power 5 program. Both teams put the offense in the hands of a veteran QB transfer (Bo Nix at Oregon, Michael Penix Jr. at Washington) who had never quite reached his potential at his previous school due to a combination of injuries and inconsistency; both subsequently looked like new men, flourishing at the helm of attacks that ranked in the top 10 nationally in yards and points per game. Both teams put up nearly identical stats on defense, finished 7-2 in conference play and ended on a high note in the Holiday and Alamo bowls, respectively. And both felt the sting of missed opportunity by way of an upset loss (vs. Oregon State in Oregon's case, vs. Arizona State in Washington's) that wound up costing them a spot in the Pac-12 Championship Game.
What distinguishes the Ducks and Huskies in 2023? Again, nothing in particular.
Nix and Penix both passed on the NFL Draft to take advantage of the free COVID year as 23-year-old super seniors. (Nix did lose his chief play-caller, new Arizona State head coach Kenny Dillingham, who was largely credited with recruiting Nix to Oregon based on their relationship from Dillingham's brief stint at Auburn in 2019; Nix will end his campus career without having ever had the benefit of playing under the same coordinator in consecutive seasons.) Oregon returns roughly 90% of its rushing/receiving production plus 3 starters on the o-line; Washington returns roughly 80% of its rushing/receiving production and 4 starters on the o-line.
The defenses are largely intact. Aside from their head-to-head meeting on Oct. 14, their respective conference slates share 7-of-8 opponents, including all of the ones that matter. That midseason meeting is in Seattle, for the record, which might count for something if not for the fact that Oregon has won 8 of its past 9 trips there. The fans don't like each other, but on some level it's fitting that the institutions operated as a bloc in the realignment wars because they may as well be twins.
The dark horse: Oregon State
2022 was a banner year in Corvallis, yielding 10 wins and validation for coach Jonathan Smith's rebuilding project in his 6th season on the job. For all that, it was also a relatively quiet one. OSU started 0-2 in conference play and didn't crack the CFP rankings or AP poll until November. It was only in the regular-season finale, a wild, come-from-behind win over Oregon that bounced the Ducks from the conference championship game, that the national hive mind began to get properly Beaver-pilled for the first time. And it wasn't until the bowl game, a 31-3 romp over Florida in Las Vegas, that it really clicked: This bunch of scrappy 3-star overachievers is actually kinda good.
Among the many other factors that limit the Beavers' visibility to the rest of the country, there was also the fact that their strengths, veteran o-line play and solid defense, don't exactly make for must-see TV. (Their best player last year, 2nd-round draft pick Jack Colletto, was an old-school fullback/H-back type who moonlighted as a part-time linebacker on defense.) This year, their closest approximation to star power is the new starting quarterback, DJ Uiagalelei, who is hoping to follow the Nix/Penix career rehabilitation plan in the Pacific Northwest after falling well short of expectations as Trevor Lawrence's successor at Clemson.
For all his flaws, Uiagalelei still has the capacity to open things up downfield far more effectively than any of the previous "game manager" QBs in Smith's tenure. If he's a hit, the only people who'll be surprised when OSU is in the thick of the conference race in the home stretch will be the ones tuning in much too late.
The wild card: Colorado
The 2023 Buffs are among the wildest cards in college football history. Deion Sanders vowed on his first day on the job last December to clean house, and he followed through in even more dramatic fashion than anyone at the time could have imagined. Taking transfer portal logic to its most extreme conclusion, Sanders purged essentially the entire locker room in the span of a single offseason, assembling most of the current roster over the summer months following a mass exodus in the spring.
The results:
• 71 new scholarship players — 53 transfers and 18 incoming freshmen — who were not on the roster in 2022.
• 15 new players who were 4- or 5-star prospects out of high school according to 247Sports' composite rating, up from 2 in 2022. Assuming they make it to opening day, freshman CB Cormani McClain, sophomore CB/WR Travis Hunter (via Jackson State), and junior DE Sav'ell Smalls (via Washington) will be the first 5-stars in a Colorado uniform in more than a decade.
• 6 new players who were all-conference picks at the FCS level in 2022, 4 of whom were All-SWAC under Sanders at Jackson State: QB Shedeur Sanders, RB Sy'Veon Wilkerson, OL Tyler Brown and DB Cam'Ron Silmon-Craig. Safety Shilo Sanders (originally at South Carolina) was second-team All-SWAC in 2021 before being limited last year by an injury.
• 8 returning scholarship players who survived the purge: RB Anthony Hankerson, TE Caleb Fauria, TE Louis Passarello, OL Gerad Christian-Lichtenhan, OL Van Wells, LB Joshka Gustav, LB Marvin Ham II and DB Trevor Woods. Not 8 returning starters. Eight guys who were on the team.
Obviously, "rebuilding" doesn't quite do justice to the scale of this project.
Between the novelty of the portal and Sanders' unique persona, it's an unprecedented experiment in locker room renewal that has never been possible before and may not be again. (Even if you were willing to give it a shot, how many other coaches would you bank on recruiting a viable Power 5 roster overnight to a program that hasn't been relevant in a generation?)
A more talented lineup is not necessarily a more cohesive one, especially with barely a month's worth of preseason practices to go on. The Buffs could come out of their Week 1 showcase against TCU looking like a Top 25 team, or they might get on national TV having no idea where to line up. Who knows? Whether or not they're any good, though, at least they are interesting, which is a lot more than anyone has been able to say about Colorado football in ages. As the ticket sales and opening-day spotlight attest, that ain't nothing. The hardest part of most rock-bottom rebuilding jobs — attracting talent and generating excitement — happened so quickly here that it has been largely taken for granted. Now they just have to go out and actually play the games.
The doormat: Stanford
The end of the David Shaw era at Stanford was depressing enough, and it arrived at exactly the wrong time — with just enough distance from the Cardinal's hey day as perennial Rose Bowl contenders to nuke whatever case they might have made for ongoing gridiron relevance in the Big Ten. Shaw's last few teams were worse than bad: They were boring, averaging a meager 20 points per game over the last 2 seasons vs. FBS opponents. Average attendance in 2022 was down by more than 25% compared to the previous 5 years, the steepest decline in the Power 5.
Institutionally, Stanford is also uniquely unsuited for a quick fix. The new coach, Troy Taylor, comes with with a fine track record in the FCS ranks but inherits a roster bereft of proven talent and a culture allergic to the broader trends driving the rest of the sport. The academic hurdles Stanford faces getting high school recruits in the door apply just as readily to veterans in the portal — only 4 transfers joined the incoming class, 2 of them o-linemen from the Ivy League — and among the many investment opportunities available to Stanford alums, for most of them, the NIL market for college football players probably ranks at the bottom of the list.
What does this program have to offer the next Andrew Luck or Christian McCaffrey, other than looming uncertainty and dread over its conference affiliation? If the Cardinal make noise in any other context in the next 5 years, it will be an even more unlikely resurrection than the one Jim Harbaugh performed in the late aughts.
Projected order of finish
1. USC: Everything you need to understand about the Pac-12's demise is reflected in the fact that its marquee brand and player are opening the season in a primetime Week Zero time slot that millions of potential viewers who have spent an entire offseason absorbing Caleb Williams hype will have no opportunity to watch.
2. Oregon: As a longtime Bo Nix skeptic in his Auburn days, it's tempting to imagine the old, self-combustible Bo still lurking around the corner. More likely, the version that emerged last year at Oregon was the natural end point for a young QB who was a little too hyped at the start of his career, thrust into the spotlight a little too soon, and judged a little too harshly for what amounted to normal growing pains. (OK, maybe way too harshly.) The finished product arrived more or less on schedule. If he had to move 2 time zones away to get there, more power to him.
3. Washington: High-volume passing attacks are not always synonymous with high efficiency, but the Huskies checked both boxes in 2022, averaging 44 passes per game while ranking No. 2 nationally in points per possession. The flip side: The defense ranked 103rd in points per possession allowed.
4. Utah: The Utes' title defense is complicated by the uncertainty surrounding 2 of their most valuable players: QB Cam Rising, who has yet to return to practice coming off a torn ACL in the Rose Bowl; and tight end Brant Kuithe, who also remains on ice nearly a full year after tearing his ACL in the 2022 opener at Florida. The first 2 games, against Florida and Baylor, are big ones as far as September nonconference tilts go, but if there are any lingering doubts health-wise there is no incentive to rush anyone back too soon. Utah's priority is the conference slate, by which point Rising, at least, still sounds like he expects to be ready to roll.
5. UCLA: It took 5 years, but the 2022 Bruins were recognizably a Chip Kelly product, finishing 4th nationally in total offense and 8th in scoring. Sustaining that minus last year's headliners, QB Dorian Thompson-Robinson and RB Zach Charbonnet, is the best problem Kelly has faced since he landed in L.A. The defense, on the other hand, remains one he's yet to solve. New coordinator D'Anton Lynn can count on his edge rushers; the rest remains a work in progress.
6. Oregon State; Assuming this is the Beavers' last season as a power conference program for the foreseeable future, there is a silver lining: As long as the expanded Playoff incorporates automatic bids for conference champions (including the best Group of 5 champion), they'll have a better chance of securing one in a revamped/rebranded Mountain West than they ever would have if the Pac-12 had survived.
7. Washington State: Roster-wise, this is essentially a Mountain West outfit as it is, featuring an alarming number of plug-and-play transfers from the lower ranks and zero players who were touted as 4-star recruits. Draftniks are bullish on senior QB Cameron Ward, who started every game in 2022 after leveling up from the FCS. The stats, not so much: Ward finished in the bottom half of the conference in efficiency, Total QBR and overall PFF grade while taking a league-high 46 sacks. Considering almost all the guys who finished in the top half are also back, the Cougars are counting on production that better reflects his next-level traits just to stay competitive.
8. Arizona: The Wildcats made a huge leap forward on offense in 2022, improving on their 2021 scoring average by 2 full touchdowns per game in conference play. They also took a huge step back on defense, giving up an appalling 43.9 ppg in 7 losses. QB Jayden de Laura is the most productive passer in Tucson since Nick Foles, but barring a dramatic turnaround on the other side, this is still a team whose spiritual home is in obscure late-night shootouts.
9. California: A middling record alone is not responsible for the Bears being left for dead in the realignment wars, but it obviously didn't help, either. In 6 years and counting under Justin Wilcox, they've topped out at 8 wins (in 2019), and had exactly 1 player taken on the first 2 days of the NFL Draft (DB Ashtyn Davis, originally a walk-on, in 2020). Going back further, Cal hasn't cracked .500 in conference play since 2009, a span that includes 3 seasons with a future No. 1 overall draft pick as the starting quarterback. Its last year in the fold looks like more of the same: A juice-less slog to the bitter end.
10. Arizona State: The Herm Edwards experiment blew up in the Sun Devils' faces, yielding a still-unresolved NCAA investigation and a subsequent collapse on the field. For his replacement, they went about as far in the opposite direction as they could go, tapping 33-year-old native son Kenny Dillingham for his first head-coaching gig at any level. Eventually, the Devils will expect to be competing for Big 12 titles and the automatic CFP berth that will (probably) go with them under the expanded format. In the meantime, no one is under any illusion that the current situation lends itself to a quick fix — especially with Jaden Rashada, a true freshman quarterback, set to take the reins.
11. Stanford: It's tempting to blame the Cardinal's descent on recruiting, but that doesn't really track: Recruiting rankings remained steady under Shaw; Stanford has never ranked worse than 5th in the Pac-12 according to 247Sports' Team Talent Composite; the past 2 starting quarterbacks, Davis Mills and Tanner McKee, were both blue-chip signees who went on to be drafted; and there are still 15 players on this roster who arrived as consensus 4-stars. Of that number, though, only 1 — sophomore DE David Bailey, a Freshman All-American in 2022 — has made any kind of impact to date.
12. Colorado: Again, don't take this position literally. Pull a number from the hat, spin the globe, throw a dart at the board. The Buffs start out in the basement by default; where they wind up is one of the season's most compelling mysteries.
The players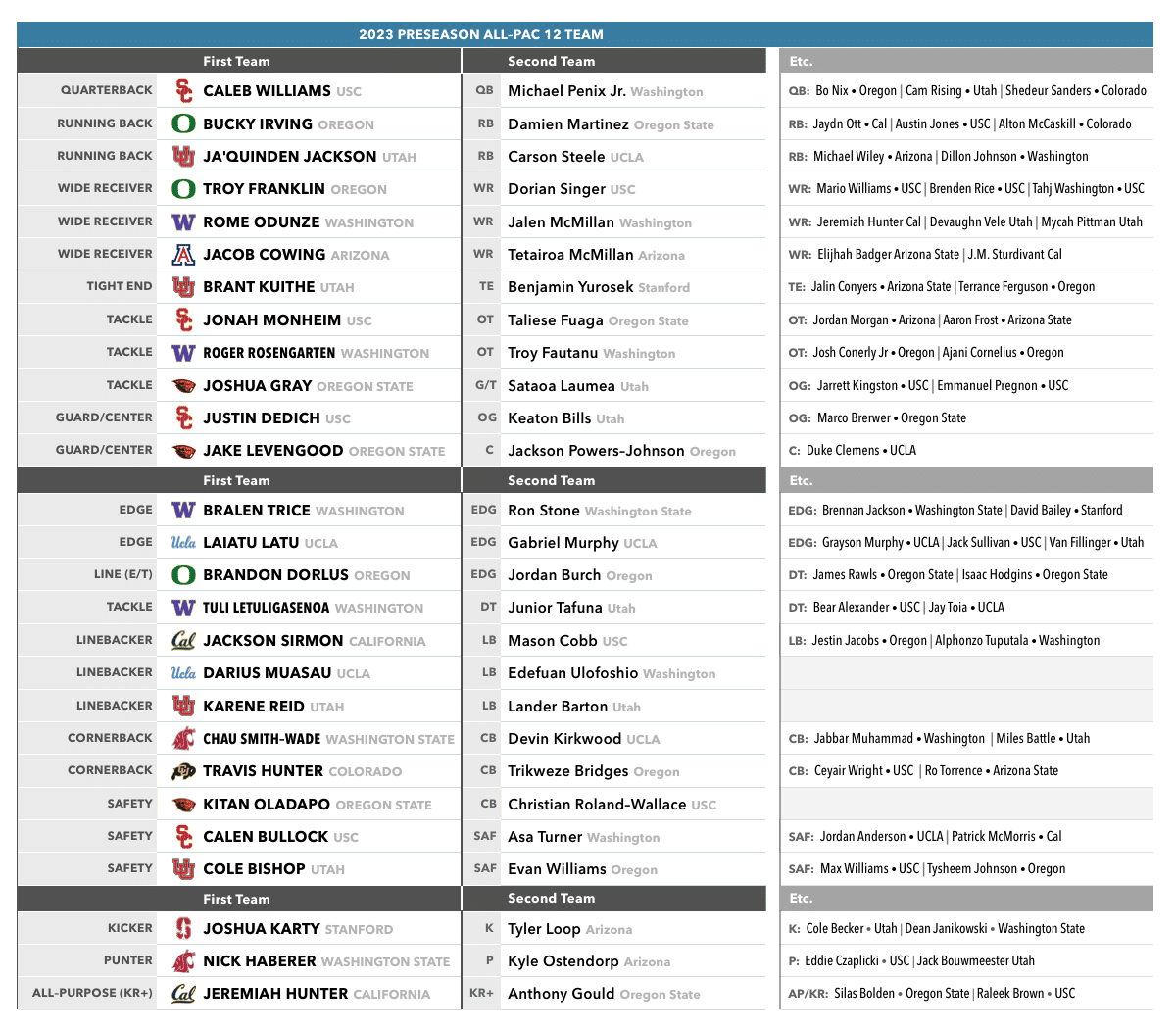 Offensive Player of the Year: USC QB Caleb Williams
The trend toward underclassman Heisman winners over the past couple decades has given us more opportunities to confront the eternal question: Is it still possible to win 2? So far, the answer has been a resounding no. Williams is the 10th reigning Heisman winner since the turn of the century to return to campus after claiming the honor; of the previous 9, none finished higher than 3rd in the following year's voting, and only Tim Tebow in 2008 managed to make it relatively close. (Tebow actually led in first-place votes that year, despite finishing behind Sam Bradford and Colt McCoy in overall points.) Of the 6 repeat contenders since Tebow — Bradford, Mark Ingram, Johnny Manziel, Jameis Winston, Lamar Jackson and Bryce Young — only Jackson returned to New York as a finalist. Putting together 1 Heisman-worthy season is feat enough. Two in a row, even for the elite, is a nearly impossible bar.
We have to say "nearly" because, yes, there is the lone precedent of Archie Griffin's repeat wins in 1974-75. Besides playing in a different era, though — and despite his '75 win going down as one of the more dubious results in Heisman history — Griffin is the exception that proves the rule.
In fact, to the extent that the Heisman already functions as a de facto Hall of Fame induction, I'm almost inclined to argue that its keepers should take the question off the table altogether by declaring returning winners ineligible to repeat. Why should any player potentially absorb that much oxygen in a sport as sprawling and diverse as college football, where there are always more new and worthy candidates than there is prestige to go around?
Williams, a comfortable winner in 2022, has already been enshrined, his place in the history of the sport already secured for posterity, his roles in future Heisman House commercials already booked. Instead, imagine him playing out this season as a sort of Heisman emeritus — above the fray, ceding the race to field, and passing the crown to the next enshrinee in December like Miss America.
Anyway, like all the great ones, Williams' legacy on campus will hinge significantly on his ring finger (currently bare), and like all prolific Lincoln Riley quarterbacks he will have to overcome an atrocious defense to get even within sniffing distance of the Playoff. In USC's 3 losses in 2022, he averaged 431 yards per game with 13 touchdowns; the Trojans scored 42, 24 and 45 points. (The 24-point outing, you'll recall, coming with Williams limping badly throughout the second half of the Pac-12 Championship Game against Utah after lighting up the Utes in the first half.) Not enough. Heisman winners and No. 1 overall picks come and go; carrying a Riley outfit to a national crown opposite a typical Riley D would be a truly singular achievement.
Defensive POY: Washington edge Bralen Trice
Arguably no player anywhere put more heat on opposing quarterbacks in 2022 than Trice, whom PFF credited with an FBS-best 70 QB pressures in his first full season as a starter. (That number included an astounding 18 pressures against rival Washington State, easily a season-high for an individual defender in a single game.) And while that didn't always translate to the official box score, where he registered "only" 9 sacks, rest assured opponents felt his presence on a regular basis.
Who wants to see Bralen Trice casually put a 320lb All-Pac 12 LT on their ass? pic.twitter.com/fo3XM1TFhh

— Joe DeLeone (@joedeleone) May 14, 2023
Down the road, Trice might project as more of a size/strength prospect at the next level than a guy who's likely to blow up the quick-twitch drills at the combine. Until then, the trail of destruction he figures to leave across the Pac-12 should be all the proof of his explosiveness anyone needs.
Most exciting player: Colorado WR/DB Travis Hunter
Sure, at this fledgling stage of his career, Hunter remains more exciting as an idea than as a proven commodity. But the idea — a dual-threat talent with elite potential on both sides of the ball — is about as intriguing as they come. The subject of the most stunning recruiting coup in recent memory, Hunter justified the hype in his lone season at Jackson State, hauling in 4 touchdown passes as a wide receiver to go with 2 interceptions and 8 passes defended on defense. PFF marked him down for the top receiving grade on the team and the top coverage grade among all SWAC corners.
True two-way players are virtually unheard of in the modern game. There was a brief period in the 1990s when the idea of carving out a role for star cornerbacks on offense was in vogue — Deion Sanders himself occasionally lined up at wideout with the Dallas Cowboys, inspiring Charles Woodson's Heisman season at Michigan in 1997 as well as Georgia's Champ Bailey, who incredibly doubled as a consensus All-American cornerback and UGA's leading receiver in '98. But Sanders' and Woodson's contributions on offense amounted to cameos; they were always primarily cornerbacks, as Hunter was last year at JSU, and they didn't spark a lasting trend. No major college player has attempted to pull meaningful double duty as a WR/DB in 25 years.
The Hall-of-Fame names in the preceding paragraph are a testament to Hunter's potential as Sanders' hand-picked protégé, and to the expectations that come with it. For his part, Hunter has said he never wants to come off the field. Presumably, that's more sophomore bravado than an actual plan. But maybe not by much.
Breakout POY: Utah RB Ja'Quinden Jackson
Jackson started as a highly-touted quarterback prospect at Texas, and quickly joined the long, undistinguished list of blue-chip Longhorn QBs who left Austin without leaving a trace. Instead, he washed ashore in Salt Lake City and found his true calling in 2022 as a jumbo-sized running back. After joining the rotation at midseason Jackson averaged an eye-opening 8.1 yards per carry with 7 touchdowns in the Utes' last 5 games, flashing an intriguing combination of speed and power in the process.
Jaquinden Jackson calls game pic.twitter.com/g54e5dn97O

— Hemā Heimuli Jr. (@x_hems) December 3, 2022
Utah, a program that has produced 8 1,000-yard rushers in 11 years since joining the Pac-12, is not the kind of place where a 6-2, 227-pound thumper with a nose for the end zone has to worry about his talents going to waste. Quite the opposite: With Jackson due to pick up where he left off in a full-time role, the bigger concern might be resisting the temptation to run him into the ground.
Fat Guy(s) of the Year: USC OL Justin Dedich and Jonah Monheim
USC is breaking in 3 new starters up front — all incoming transfers, most likely — but the 2 holdovers are arguably the top returning o-linemen in the Pac-12. Caleb Williams averaged an FBS-best 3.25 seconds to throw last year en route to the Heisman, and like any quarterback with an instinct for self-preservation he knows where his bread is buttered: Per PFF, neither Monheim nor Dedich was responsible for allowing a sack or a single QB hit in a combined 1,172 pass-blocking snaps.
Most Valuable Transfer: Colorado QB Shedeur Sanders
The hype following Sanders to Boulder from Jackson State is not merely the product of his last name, and his success at the FCS level — 23-3 as a starter, national Freshman of the Year in 2021, SWAC Offensive Player of the Year in '22 — cannot be dismissed as merely the result of facing marginal competition. As a recruit, he was a consensus 4-star with a lengthy offer sheet from name-brand schools across the country. Athletically, he arguably stacks up against any current Pac-12 starter this side of Caleb Williams. Of the many, many question marks surrounding Colorado this fall, the new starting quarterback is the least of them.
In fact, if there's another position on the depth chart that clearly benefited from the offseason roster purge, it's wide receiver. The Buffs added a couple of relatively proven transfers from South Florida, Xavier Weaver and Jimmy Horn Jr., as well as Travis Hunter, who despite playing predominantly on defense at JSU devoted most of his time in the spring to working on offense. With Sanders pulling the trigger, the passing game is one area — possibly the only one — where the rebuild figures to be roughly up to Pac-12 speed right out of the gate.
Sleeper of the Year: Washington State CB Chau Smith-Wade
Quarterbacks and receivers dominated the box scores, but ironically another position of strength for the Pac-12 last year was cornerback: The league produced a 1st-round pick (Oregon's Christian Gonzalez), a 3rd-round pick (USC's Mekhi Blackmon) and a consensus All-American (Utah's Clark Phillips III, who fell to the 4th round strictly due to his height). Smith-Wade was not nearly as decorated as that group in his first year as a starter, but he was right there with them according to Pro Football Focus, where he posted the top overall grade of any returning corner in the league. The outgoing class left a glaring void on the all-conference team, and his name is at the top of the list to fill it.

Best position group: USC's Wide Receivers
How stacked is this group? The Trojans' leading receiver, Jordan Addison, left for the first round of the draft, and the room is arguably stronger in 2023 than it was with Addison. The rotation arguably goes 10 deep with viable targets, half of whom are potential stars.
Three other 2022 starters (Mario Williams, Tahj Washington and Brenden Rice — Jerry's son) are back after combining for 2,027 yards and 15 touchdowns on 15.7 per catch. To fill the line at WR1, USC added Arizona transfer Dorian Singer, an all-conference burner who memorably torched the Trojans last year in Tucson.
Blue-chip sophomore Raleek Brown shifted from running back to the slot in the spring. The incoming recruiting class included the nation's highest rated wideout (Zachariah Branch) and tight end (Duce Robinson), a position that was largely absent from the passing game a year ago. (In fact, the 6-6, 225-pound Robinson is officially listed as a wide receiver; he's likely in line for a hybrid "big slot" role.)
With that much talent concentrated in one place, and even bigger talent in charge of distribution, the only problem is finding enough balls to go around.