PAC-12
Breaking down my bracket for the 2023 NCAA Tournament: Can UCLA really do this?
I'm not gonna lie. I'm comin' in hot.
In each of the past 2 years, I accurately predicted the national championship winner and won my bracket pool of 15 people. I know what you're thinking. I probably had some scoring system that was heavily weighted on the title game. Quite the opposite, actually. If your pool is 1 point for a Round of 64 win and 32 points for a national championship win, you're doing it wrong.
You didn't come here to see just my national championship pick. You came here to see everything else. There's a reason we actually fill out a bracket and we don't just put down a future on a national championship winner. How boring would that be?
So what are some things to keep in mind as we head into the Big Dance? I'm glad you asked:
You get 1 bracket of integrity
I'm a multi-pool guy, not a multi-bracket guy. Why? If you root for everything, you root for nothing.
Why would I want to ruin the best non-college football week of the year by hedging on every single pick? Also, if I fill out multiple brackets, I can't then brag about any of my victories. Isn't that the entire point of filling out a bracket? Like, isn't March all about texting your friends that they're awful and that they'll never be as smart as you?
Be a 1-bracket person. Live and die with it.
Alternatively, fill out a million brackets and don't tell a soul about any of them. Take your pick.
The national championship prerequisite that I can't stop thinking about
You know when you have a song stuck in your head as you're going to sleep and you wish you could think about literally anything else instead of replaying it in your mind? That's how I feel about this certain national championship prerequisite.
(Don't ask me why, but I had a 3-day stretch around Christmas in which Randy Houser's "Country 'Round Here Tonight" was embedded in my brain. Catchy? Sure. Too catchy? Clearly.)
In the 21st century, we have never seen a team fail to make the conference tournament semifinals and then go on to win the national championship. The 2013 Michigan squad is the only team that failed to reach its conference tournament semifinals and then went on to play in a title game. Of all the Final Four teams in the 21st century, 85% of them at least reached their conference tournament semifinals.
That's pretty wild, if you think about it. Conference tournament success can be a bit overrated because if your team wins it but then fails to make it to the second weekend, the latter carries far more weight. Go ask last year's Tennessee squad about that.
This year's Tennessee squad would be one of those teams that failed to make a conference tournament semifinal. The same was true of Baylor and Kansas State, all of which are top-4 seeds who could have favorable paths to regional titles.
So why am I annoyed that I can't stop thinking about this? Because in reality, it should really only impact my title winner, not everything else. But here I am, going to sleep still humming that song.
There's a time and a place for chalk
I brought this up last year, but it bears repeating. If you filled out your bracket and penciled in all 1-seeds in the Final Four, that's fine. You did it in pencil, which means you can erase it. Instead, remember that we haven't had a Final Four with all 1-seeds since 2008.
Besides, the NCAA Tournament isn't "March Mundaneness." It's March Madness. It's fun to ride with Charleston to pull off that first-round upset. We shouldn't take for granted the fact that we get so emotionally invested into a team we've never watched and will have zero attachment to once our bracket is inevitably busted. Pick upsets.
Don't, however, get too weird with your national champion. Why? Here's the breakdown of seeds for title winners in the 21st century:
No. 1: 2022 Kansas, 2021 Baylor, 2019 Virginia, 2018 Villanova, 2017 UNC, 2015 Duke, 2013 Louisville, 2012 Kentucky, 2010 Duke, 2009 UNC, 2008 Kansas, 2007 Florida, 2005 UNC, 2002 Maryland, 2001 Duke, 2000 Michigan State
No. 2: 2016 Villanova, 2004 UConn
No. 3: 2011 UConn, 2006 Florida, 2003 Syracuse
No. 4: nobody
No. 5: nobody
No. 6: nobody
No. 7: 2014 UConn
To repeat, that's 16 of 22 winners in the 21st century who came in as 1-seeds. Of the 21st century title winners, 82% of them were top-2 seeds, and as you can see, 2014 UConn was the lone non-top 3 seed.
You can get weird. Just don't overthink it too much.
OK, let's get to the bracket:
South
Winner — Alabama
Team who can blow up my bracket — Virginia
We know that Tony Bennett's team is always a unique matchup. If Alabama, which enters as the overall No. 1 seed, runs into the Cavaliers in the Sweet 16, we're talking about teams that rank No. 4 and No. 360, respectively, in possessions per 40 minutes. We know that the Tide struggled against a slow-it-down team like Tennessee. It's not that Alabama is incapable of winning a rock fight. Nate Oats' squad defends at an elite level, as well. But it does feel like forcing Alabama into a bad selection of limited shots is the path to take down the top-seeded team in the field.
Having said that, I foresee Virginia having issues in the opening round against a Furman squad that went 14-1 down the stretch and is No. 8 in the country in scoring. The Paladins can get hot and make an 8-point lead feel bigger than it is against a Virginia squad that ranks No. 74 nationally in adjusted offensive efficiency.
I've also got Charleston pulling off a Round of 64 upset against San Diego State and reaching the Sweet 16. Why? I love mid-majors that can absolutely light up the scoreboard. Charleston and Furman both averaged north of 80 points per game. Yes, San Diego State is top-10 nationally in defensive efficiency, but I still see Charleston having a similar path to Furman, wherein they shoot through a potentially slow start and an SDSU squad who really doesn't prioritize the 3-ball is suddenly in desperation mode.
But I see Alabama, with the highest floor and the highest ceiling of any team in the field, rolling to its first ever Final Four: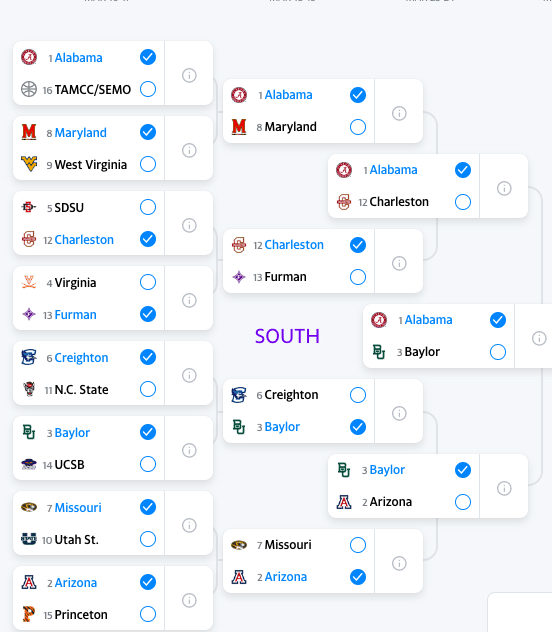 East
Winner — Marquette
Team who can blow up my bracket — Duke
Duke will be an extremely trendy pick to reach the Final Four. What a weird time to be alive. The Blue Devils have looked phenomenal down the stretch, so any time there's some confirmation bias with a blue-blood, that'll win out. Don't be surprised if more people in your bracket pool have Duke, as opposed to a Purdue team that hasn't been to a Final Four since the Jimmy Carter administration. It doesn't hurt Duke's path that Tennessee is still trying to find the right answer after the season-ending injury to point guard Zakai Zeigler.
I suppose that means Oral Roberts could once again be in a spot to blow up everyone's bracket. The Golden Eagles can light it up. What a wild Round of 64 development that would be in Orlando. But while a 12-5 upset should never be considered shocking, I still think the Blue Devils should be able to get to the second weekend.
So why am I high on Marquette? For starters, Shaka Smart is one of the best coaches in America. His high-pressure defense — Marquette ranks No. 4 among tournament teams in turnovers forced per game (16) — should bode well against some Hall of Fame coaches, who have struggled to find their teams' right offensive identity. John Calipari and Tom Izzo have looked helpless at times this year. Against a Marquette squad who enters the field having won 14 of 15 games, that's a bad omen.
And how does Marquette prevent Zach Edey from taking over in an Elite Eight matchup? It doesn't. But it makes life difficult on those young Purdue guards and Matt Painter is again on the outside looking in of a Final Four berth.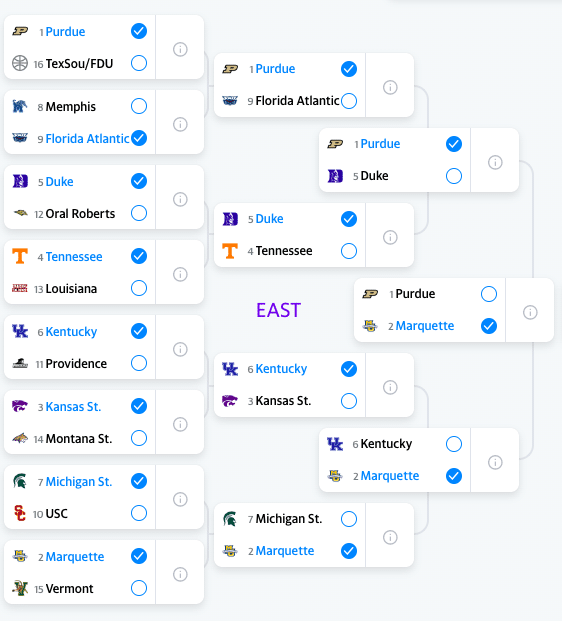 Midwest
Winner — Houston
Team who can blow up my bracket — Auburn
I spent the entire season telling myself that I couldn't trust Auburn, and maybe that'll prove to be true again, but think about this: The Tigers have lost 9 of their past 13 games, but 7 were by single digits. What if water is about to find its level? And what if Auburn is quietly in position to pull off the 2017 South Carolina move by somehow being the underdog who gets a second-round game in its home state?
Keep in mind that Houston, which has been no worse than No. 5 all season, just watched leading scorer Marcus Sasser suffer a groin injury in the AAC Tournament semifinals. The Sasser-less Cougars then struggled in a 10-point loss to Memphis in the conference title game. Kelvin Sampson said that Sasser could have played but that it was about being cautious heading into the NCAA Tournament. That's somewhat daunting.
Not as daunting? Houston is the nation's No. 1 team in NET and KenPom, and Sampson has 9 NCAA Tournament victories in the past 3 editions. Even without Sasser at 100%, Houston is still 40 minutes of hell (apologies if Nolan Richardson trademarked that).
I could see a world in which Miami emerges from the Midwest, but the ACC Tournament injury to Norchad Omier could prevent the Hurricanes from repeating last year's Elite Eight run. And it's tempting to slot in a team like Texas, which ranks No. 2 in America in Quad 1 wins, but as great as Rodney Terry has been stepping in after the bizarre midseason arrest/firing of Chris Beard, I can't quite get on board with an interim coach in the Final Four. Plus, whoever wins the A&M-Penn State game is going to be as daunting of a second-round matchup as any top-2 seed will get.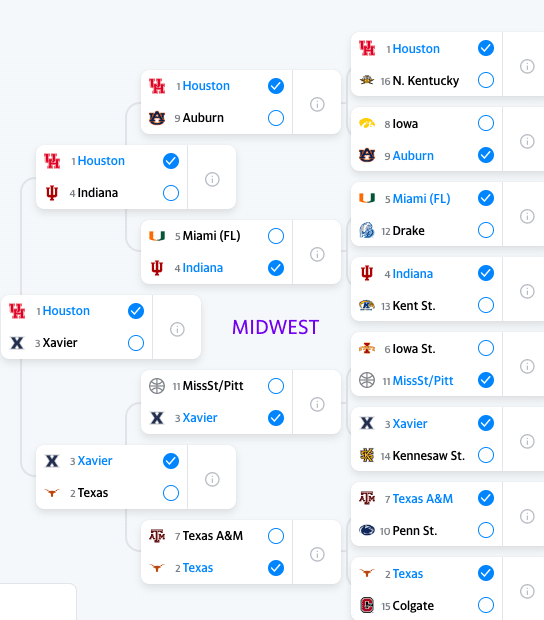 West
Winner — UCLA
Team who can blow up my bracket — Gonzaga
For my money, this is the single most intriguing region. We've got the defending national champs, who had the unfortunate development of losing Bill Self to a health scare ahead of the Big 12 Tournament (Kansas released a statement that he recovered and he's set to coach in the NCAA Tournament). We've got UConn, which turned into the favorite team among the basketball nerds. We also have 50-year-old Drew Timme and Gonzaga, who will enter the field without being a 1-seed for the first time in 5 years. And then there's UCLA, which has 50-year-olds Jaimie Jaquez Jr. and Tyger Campbell, but just lost Pac-12 Defensive Player of the Year Jaylen Clark to a season-ending injury.
That's 4 of the top 9 teams in KenPom. Mercy.
That's not even mentioning the fact that Arkansas is sitting on that 8-9 line fresh off consecutive Elite Eight berths with what was supposed to be Eric Musselman's most talented team.
This terrifies me because I have high, high hopes for UCLA. Really high. Mick Cronin's team is battle-tested and lost in the shuffle of the Clark injury and the subsequent Arizona loss in the Pac-12 Tournament Championship was the fact that the Bruins had won 12 consecutive games. There's certainly a chance that we get a rematch of the 2021 Final Four classic wherein Jalen Suggs hit a shot for the ages to stun UCLA. But I'll instead predict that we miss out on that and a TCU squad with 8 Quad 1 wins pulls off the Round of 32 upset.
An even bigger upset would be UConn taking down No. 1 seed Kansas in the Sweet 16. Dan Hurley's squad has the metrics working in its favor — they rank in the top 20 in offensive and defensive efficiency — and will pull out a win against a Kansas team that can be a too bit Jalen Wilson-dependent at times. Plus, repeating is extremely difficult.
UCLA shakes off the Clark injury and emerges from the region of intrigue.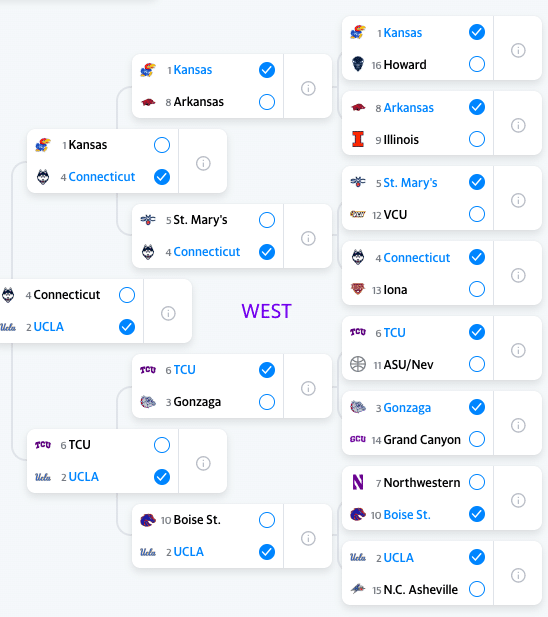 Final Four
Semifinals — UCLA over Houston, Alabama over Marquette
National Championship — UCLA over Alabama
I know, I know. You'll tell me that the Clark injury means UCLA is destined to come up short. You, skeptic of that pick, might be right.
I banged the drum that Alabama is the most complete team in the country. The Tide totally dominated an 8-bid SEC and possess everything you'd want in a championship contender. That propels them past a Marquette squad who is overpowered by Brandon Miller and Charles Bediako.
As brutal as it is to step onto the same floor in Houston, I believe the hometown team struggles to frustrate the veteran guards of UCLA. A game that turns into a rock fight ends up favoring UCLA, who actually has defended at an even more efficient rate than the Cougars this year.
It's that UCLA half-court defense that proves to be too difficult for Alabama to overcome. Instead of getting the ball movement that's been a staple of Oats' squad, it defaults to too much isolation offense and UCLA forces too many contested looks for the Tide.
The Bruins finally get over the hump and cut down the nets for the first time since 1995.